Description
Toddlers usually have a hard time trying to drink from a cup. Thanks to this sippy cup, your child can learn how to drink from a cup in no time. It features a soft, one-piece spout which doesn't only makes it easy to drink from the cup, it prevents leakages too. Your child can also hold this sippy cup with ease, thanks to the ripple design.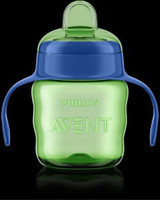 One-piece Spout
You can assemble this sippy cup in no time as its valve has been built into the spout.
Ripple Shape
Thanks to the cup's ripple shape, even for tiny hands can hold the cup with ease.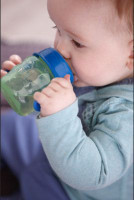 Spill-free Cup
Thanks to the built-in valve, there's no unnecessary leakage from this sippy cup. So, your child won't end up dirtying your floor.
Soft Spout
The soft spout is gentle on your toddler's gums as it is made of silicone. As it is flexible, it bends to help the drinking process. So, your child will be able to drink water from this sippy cup with ease and comfortably.
Cup is Dishwasher Safe
It's safe to clean the cup in a dishwasher.
BPA Free
The materials of this sippy cup aren't harmful to your child as they don't contain BPA (Bisphenol A).
Compatibility Across the Range
With the exception of glass bottles, this cup is compatible with all the bottles from the Philips AVENT Classic and Natural bottle range.